Teen emPower! program evaluations, conducted by the Health Promotion Sciences Department, Hudson College of Public Health at the University of Oklahoma Health Sciences Center (OU-HCOPH), have documented consistently positive results among the middle and high school youth participants. Copies of recent program evaluation reports are provided below.
Project REACH Yearbook, 2021-22
For program highlights from year 2 of the 3-year project (2022), click here.
For the Teen emPower! evaluation summary from the Teen Pregnancy Prevention Replication Project (2020), click here.
For the full Teen Pregnancy Prevention Replication Project Evaluation Report prepared by OU-HCOPH (2020), click here.     
Teen emPower!'s innovative peer education model is the only one in Oklahoma, and one of very few in the country where trained high school students present a series of lessons to middle school students about managing peer pressure and relationships. Peer Educators have presented this popular and highly successful program to over 10,000 students in 7th grade since Teen emPower! launched it in 2008. Currently, the SHAPE program is offered in five metro area schools
For a description of the SHAPE peer education model, click here. 
Peer Educators As Partners in Sexual Health Programming: A Case Study (2020) describes Teen emPower!'s process for recruiting and training the SHAPE high school peer educators. Prepared by the Department of Health and Kinesiology at Texas A&M University, the case study highlighted key factors that have made the SHAPE program model so successful.
For a copy of the peer education case study, click here.
For the article "Peer Educators as Partners in Sexual Health Programming"
published in the American Journal of Sexuality Education (March 2022), click here.
REACH (Reproductive Education to Achieve Community Health) was created by Teen emPower! with the Oklahoma City-County Health Department and Variety Care as a school-community partnership model for providing quality sexual health education for middle and high school youth. The REACH for Health model includes SHAPE peer education, evidence-based sexual health programs, and innovative health promotion activities for students in twelve middle and high schools in three metro public school districts: Mid-Del, OKCPS, and Crooked Oak. The multi-year project is funded by the HHS/Office of Population Affairs. 
The Project REACH Yearbook provides an engaging, visual overview of the
programs and impact of the project during the 2021-22 school year.
"I love it when Mrs. Kathy comes to talk to our class. She shares stuff we don't get to learn about normally but it's information we need."
"While I was in SHAPE, I learned SO MUCH. Not only how to keep myself safe and make better decisions, but how to teach those skills to other people."
"The older kids who came into our class were really great. It made me feel like I didn't have to do what other people were doing, I could make those decisions for myself."
2021-2022 Outstanding Community Partner
Awarded to Teen emPower! by the College of Education and Professional Studies at the University of Central Oklahoma, March 2022.
This award recognizes community partners that have made outstanding contributions through collaborating with members of the college
to benefit students and the community.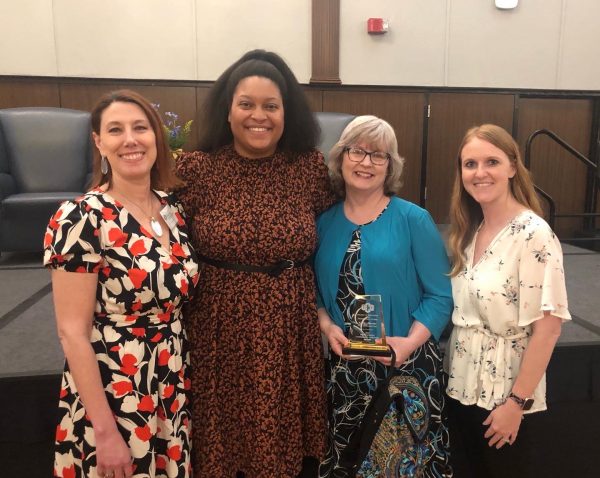 Teen emPower! staff, L to R: Amy Roff: Impact Manager;
Mairi Davidson: UCO Intern; Kathy Harms: Executive Director
and Kimberly Molitor: Education Supervisor
2022 Volunteer Service Award
The SHAPE High School Peer Educators received the 2022 Volunteer Service Award from the Oklahoma Public Health Association for their contributions to the field of public health. SHAPE members are trained, local high school students who teach middle school students about decision making, healthy relationships and managing social and peer pressures.
During the 2021-22 school year, 31 trained high school peer educators provided four health lessons in 36 Science classes, reaching 789 seventh grade students in five middle schools: Taft and Mary Golda Ross in OKCPS, Del City and Midwest City in Mid-Del, and Crooked Oak. The high school peer educators invested a total of 2,030 volunteer hours in SHAPE health education and promotion, classroom presentations, and community service activities
Teen emPower! staff and SHAPE Peer Educators from the SHAPE Summer Retreat 2022